May 26, 2023
The monsoon-filled western Ghats put any traveler into a trance. The cold wind that blows along and the occasional fog that comes along beautifies the scenery beyond compare. Such is the marvel of this place…with coffee-filled estates and the glory of pure nature. Famously called theKailash of the South, step into Mullayangiri mountains for an invigorating trek. Lets go for a camp brings to you the 2 Days 1 Night Chikmagalur Belur Halebeedu Trip.
Also ,  horseshoe viewpoint, as well as Baba Budhan giri, are to be seen. Along with the tremendousness of buttermilk waterfalls, these are sights meant to be imprinted upon our memories forever. Along with the forests, we have Belur and Halebeedu.which exalts Chikmagalur to a world heritage status and is an enriching stone expedition. You will experience all this in our 2 Days 1 Night Chikmagalur Belur Halebeedu Trip.
Join us as we take you through the captivating landscapes of Chikmagalur, Belur, and Halebeedu on a memorable tour. Our 2 Days/1 Night journey is  designed to give you the best of these captivating locations.
The journey starts with a trip to the well-known horseshoe viewpoint, where you'll be met with breath-taking panoramic vistas that extend as far as the eye can see. You will be in awe of nature's magnificence as you travel through the misty valleys and undulating hills. We'll take you to Baba Budhan giri, a revered mountain range renowned for its spiritual significance and mesmerising beauty, just when you think it can't get any better.
But that is not where our adventure ends. Get ready to be mesmerised by the magnificent Buttermilk Falls, which cascade down with utmost grace and create a symphony of nature's elements. You will feel humbled and energised by the falls' incredible strength and magnificence.
We will experience the rich cultural legacy of Belur and Halebeedu as we go more into Chikmagalur. Ancient temples and time-tested architectural marvels can be found in these historic communities. Prepare yourself for an educational stone excursion as you explore the complex carvings, gorgeous sculptures, and the stories they reveal about the area's great past.
Welcome to the stunning land of Ladakh, where snow-capped mountains, turquoise lakes and vast untouched scenery await you Our exclusive 8 Days 7 Nights Ladakh Trip is a thing if it is well designed promising to be an unforgettable journey in one of the greatest spectacle – inspiring places in India. Embark on a journey that will take you through the landscapes, ancient monasteries and traditional cultures of the Kaldakhis, leaving cherished memories that will last a lifetime.
Your journey begins in Leh, the capital of Ladakh nestled in the breathtaking Himalayas. As you venture into higher ground, soak in the vibrant markets and narrow streets of Leh, where you can feel the echoes of Ladakh's rich history at every turn and get ready for a Pangong Tso , marvel at the unparalleled beauty of the sparkling lake for which it is famous and its ever-changing blue -Visit the pass and immerse yourself in the peacefulness of the Nubra Valley and celebrate the ancient monasteries of Proof of the Alchi and Hemis. Each day you will discover the hidden treasures of Ladakh, all while experiencing the warm hospitality and spiritual essence that makes this region truly unique.As you travel through the rocky landscapes and twisting mountain roads, get ready for an amazing trip. Experience the exhilaration of overcoming high-altitude peaks like Khardung La, the highest motorable pass in the world, which offers spectacular panoramic vistas that will leave you speechless.
We will look out for your safety and give you intriguing insights into the history, culture, and natural beauties of the area throughout your 8 days in Ladakh. Be confident that your trip will be seamless and unforgettable thanks to our itinerary, which has been meticulously chosen.
Therefore, our 8 Days 7 Nights Ladakh Trip is created to go above and beyond your expectations, whether you're looking for adventure, an opportunity for spiritual enlightenment, or simply a chance to immerse yourself in the untamed beauty of Ladakh. Prepare to set out on a transforming experience that will provide you with lifelong memories. Join us and experience Ladakh's charm like never before.
Nepal with rich ancient cultures set against the most dramatic scenery in the world is a land of discovery and unique experience. For broad minded individuals who value an experience that is authentic and mesmerizing, Nepal is the ideal destination. Come and revel in the untouched and the undiscovered and uncover yourself With our 8 Days 7 Nights Nepal Trip.
It is unsurpassed that the sheer diversity Nepal boasts, from steamy jungle and Terai to the icy peaks of the world's highest mountains means that the range of activities on offer. Trekking, mountaineering, rafting in spectacular scenery are just three things Nepal is famous for. Activities as diverse as Elephant Polo and a micro-light flight through the Himalayas show that in Nepal, the only boundary is your imagination. With 15 National & Wildlife Parks (two are UNESCO Heritage sites) Nepal is one of the last places on earth you can spot the Asiatic rhinoceros and the Royal Bengal Tiger.
For many, Nepal's greatest attraction is its people. The traditions and famous hospitality of its many different groups are indeed a major part of what makes Nepal so special. From remote mountain villages to medieval hill-towns and the ancient cities of the Kathmandu Valley, the people of Nepal are always welcoming. Come and experience the strong and unique flavors of Nepalese cuisine, prepared with love and a depth of flavor or join in and celebrate at one of the many festivals year round. In fact, with more festivals than days of the year, there is nowhere else in the world that can offer as many festivities as Nepal.
Uncover the depths of Nepal's allure and embark on a journey that promises discovery, authenticity, and a lifetime of cherished memories. Join us on our 8 Days 7 Nights Nepal Trip and let the magic of this remarkable land captivate your senses.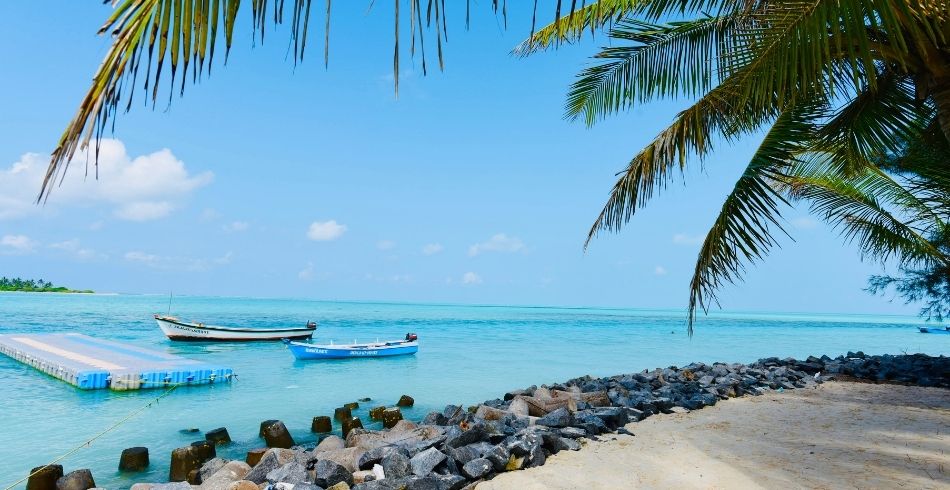 Letsgoforacamp brings you the most sought-after trip in India – India's smallest Union Territory 4 Days 3 Nights Lakshadweep Trip. Lakshadweep is an archipelago consisting of 36 islands with an area of 32 sq km. All Islands are 220 to 440 km away from the coastal city of Kochi in Kerala, in the emerald Arabian Sea. The natural landscapes, the sandy beaches, abundance of flora and fauna and the absence of a rushed lifestyle enhance the mystique of Lakshadweep. The islands are well connected by regular flights from Kochi. The islands are famous for their rich marine life due to the stable temperatures of the waters. Lakshadweep islands are a famous beach destination of India with crystal clear blue waters and coral reefs.
Experience Lakshadweep's captivating beauty on our unique 4 Days 3 Nights Lakshadweep Trip. Prepare to be enthralled by the gorgeous sandy beaches and undisturbed natural sceneries that surround this enchanting archipelago as you set out on this remarkable experience. Lakshadweep offers a really one-of-a-kind and immersive experience with its 36 islands covering a total area of 32 sq km.
Just 220 to 440 kilometres from the coastal city of Kochi in Kerala, you may escape the hectic city life by travelling through the emerald waters of the Arabian Sea. The Lakshadweep islands welcome you with open arms, ready to share their secrets and reveal a world of peace and tranquilly.
Lakshadweep's attractiveness comes from both its rich flora and fauna and its magnificent environment. Be prepared to encounter a wide variety of marine life as you explore the islands. Lakshadweep is a sanctuary for snorkelers and scuba divers because the waters surrounding the islands maintain steady temperatures, which have fostered vibrant coral reefs.
Reaching this gorgeous location has never been simpler thanks to easy aircraft connections from Kochi to the islands. Why then wait? Come along on this wonderful trip with us to Lakshadweep, India's smallest Union Territory, and discover its beauties. Allow the bright coral reefs and beautiful, blue waters to carry you to a place of unadulterated bliss. Today, reserve your 4 Days 3 Nights Lakshadweep Trip and set out on an unforgettable journey.
Welcome to lets go for a camp's Heaven '6 Days 5 Nights Kashmir Trip'. Our 6 Days 5 Nights Kashmir Trip is created to envelop you in the allure of its natural splendour and the depth of its culture. You'll be enthralled by Kashmir's breathtaking vistas, thriving markets, and gracious hospitality from the moment you arrive.
A Persian poet had penned down some beautiful lines witnessing the natural artistry in Kashmir. The lines sum up every beautiful trait of scenic Kashmir.
"Gar Firdaus bar-rue zamin ast, hami asto, hamin asto, hamin ast."
Translation – "If there is a heaven on earth, it's here, it's here, it's here." As soon as a person steps down on the land of heaven, the cool breezes in the hot summer, the snowflakes in winter, the Golden Chinar leaves in autumn and the colorful tulips in spring, this is what Kashmir brings in for you ! Leisure, Liveliness and Lush greenery are the top traits of Kashmir.
The place has also belonged to Maharajas and Mughals long decades ago. The architecture of some renowned places is similar to Iran. Mughal Architecture gardens namely,
Nishat, Shalimar
are some decade long royalties that are still visited by 'n' number of people throughout the year. The infamous
Dal Lake ,popularized by the most number of Bollywood songs location, is encircled by the Boulevard which turns into Foreshore Rd later. Numerous Persian architected Shrines, Lots of infamous Gardens and the snow-clad mountains covering the whole valley are breathtakingly beautiful. In all four seasons, Kashmir looks at its best. This place being Splendid along with the warmth of the locals is what it's famous about.
Ranked as the safest city to travel for women,this place gives you a lifetime of experiences and memories. Called as Switzerland of Asia ,Kashmir has got everything for you. Get going, into the warmth of Nature; get going towards KASHMIR.
Our 6 Days 5 Nights Kashmir Trip promises to be an amazing experience, whether you're a fan of nature, an adventure seeker, or simply someone wishing to unwind in the middle of nature. Allow us to take you on a tour to experience Kashmir's authentic spirit and make lifelong memories. Set out on an extraordinary experience in Kashmir by making your travel arrangements right away.